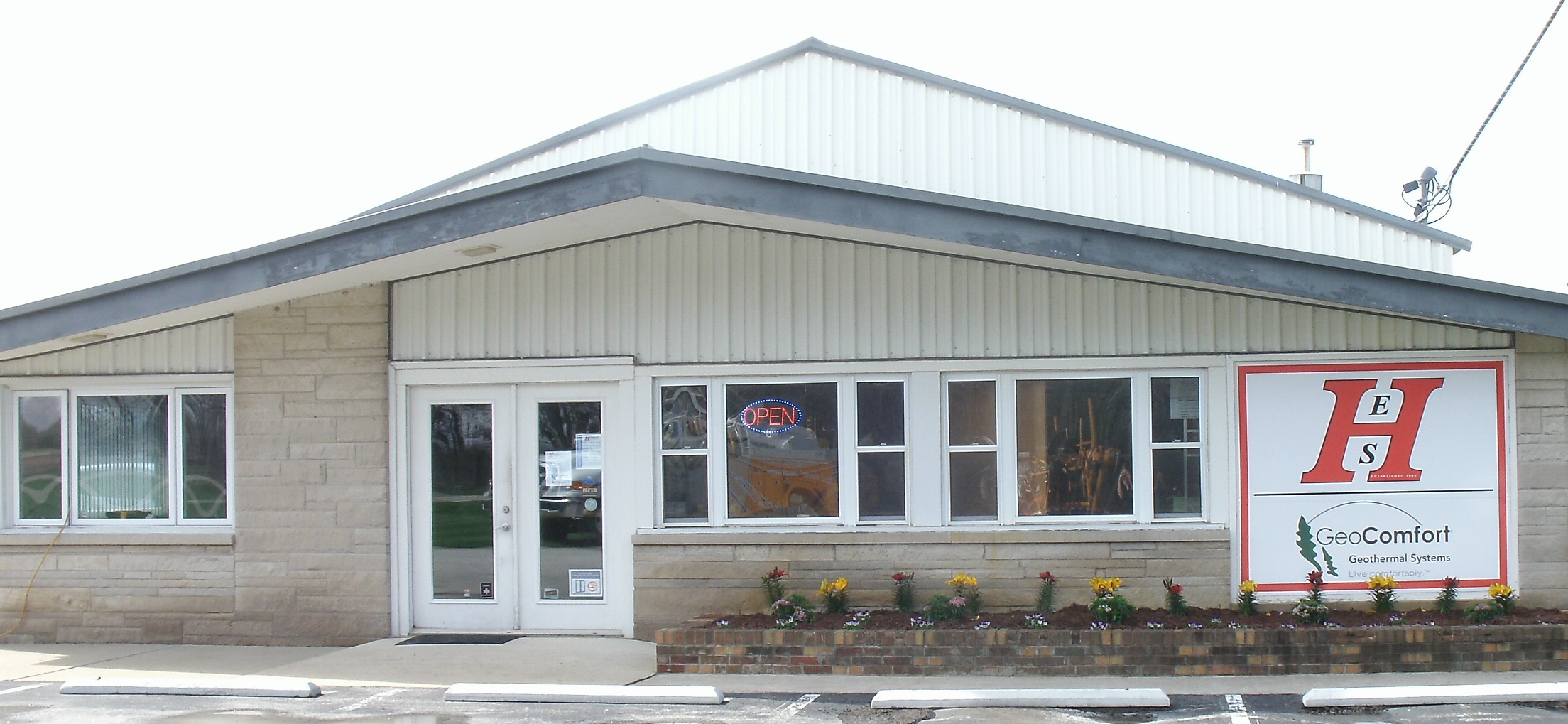 heating & cooling Service
Greentown, IN is where Hochstedler's is based, and we service Howard and surrounding counties. We service any brand of heating and cooling equipment and a wide variety HVAC systems:
Geothermal Heat Pumps
Air source Heat Pumps
Mini-split Heat Pumps
Air Conditioners
Gas furnaces
Oil Furnaces
Boilers
Humidifiers
Dehumidifiers
Thermostats
Our excellent service technicians will perform a thorough routine maintenance on your heating and cooling system, prolonging the lifetime of your equipment. Should your equipment need repairs, our techs have the knowledge and training to properly diagnose and repair your system.


New equipment installed
If you are in need of new equipment, we will gladly provide a free quote for a system to fit your needs. We begin by measuring the house/small office so we can do an accurate load calculation. The load calculation will determine the size of equipment necessary to properly heat and cool your environment. We offer top of the line equipment from American Standard, GeoComfort, LG, Aprilaire, and much more! From traditional furnaces and air conditioners to geothermal heat pumps, we will find the right system to match your comfort level.
geocomfort
Hochstedler's has been servicing and installing geothermal systems since the 1970s. Geothermal heat pumps are the most efficient heating and cooling systems to operate. Nothing beats the quiet operation and comfort of a GeoComfort!
aprilaire
Aprilaire humidifiers, dehumidifiers, and air filtration products will help you breathe easier! Filtering the air you breathe and controlling the humidity level with Aprilaire products will help you maximize your home comfort level.
In 1966, Milo Hochstedler started Hochstedler Insulation, using mainly Amish and Mennonite employees. The company quickly grew due to the energy crunch of the 70s. Within the first four years they started manufacturing their own cellulose insulation and were the first in the area to use polyurethane foam insulation.
The company expanded into electric heat and in 1978 the first water source heat pump was installed in the area. Also in 1978, they built a new office, allowing them to move the business out of the Hochstedler house.
On July 28,1982, Hochstedler Insulation became incorporated as Hochstedler Energy Services. The shareholders and officers were Robert Hochstedler, Rachael Hochstedler, and Joel Stoll. In January of 1987, Joel sold his shares of the business to Robert and Rachael Hochstedler, and resigned as an officer.
In the Spring and Summer of 1992, the Hochstedlers purchased the property located at 6205 E 00 NS, Greentown. Many hours were spent remodeling and insulating the buildings to meet their needs.
Hochstedler Energy Services strived to provide energy conservation products and services for the residential and light commercial market. These services included heating, cooling, ventilation, insulation, weatherization, and window and door replacement.
In 2003, Bob and Rachael Hochstedler decided to retire. They sold Hochstedler Energy Services to two long-time employees. The business was re-incorporated as Hochstedler Energy Systems on September 15, 2003. Bob and Rachael stayed on as employees until the Spring 2004.
Curt Rivers was one of the two long-time employees that took over ownership in 2003. Curt purchased all shares of the business in Spring 2010 and is the sole owner and president of the company. In January 2013, Curt restructured the company to focus on just residential and light commercial heating and cooling systems and dissolved the insulation, window, and door departments.
Through the years, Curt brought on the next generation of Rivers to work at Hochstedler Energy Systems. For over 50 years, this family owned and operated company has served Howard and surrounding counties with the highest quality customer service and will continue doing so for many more years.
If you are in need of service, please call the office to insure fastest scheduling and dispatching of our service techs. If you would like brochures or additional information on our products and services, please fill out the form below. General questions and inquiries about new equipment can also be addressed by filling out the form below. Thanks for visiting our site! We look forward to serving you!